The Vista-Dome Silver Lariat
Silver Lariat seats up to 60 guests at tables in 3 room areas for formal dining. We have retained the comfortable reclining chairs and deep cushion dome chairs throughout, making this a car you'll want to spend both dining and non-dining hours in.
Silver Lariat is equipped with a CD sound system, public address, and audio-video presentation capabilities.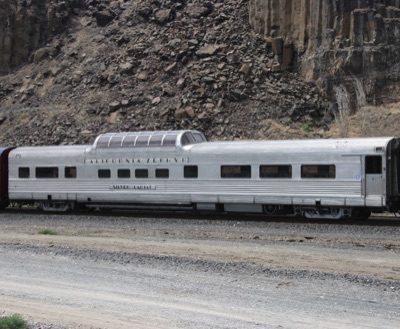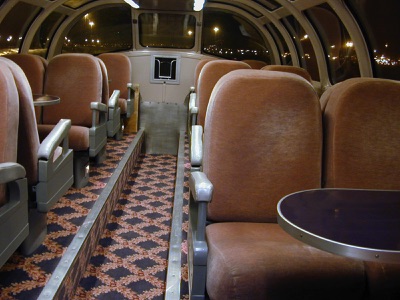 The dome is a wonderful area for viewing the passing scenery, both daytime and nighttime. 24 seats are arranged around 6 tables for cocktails or dining.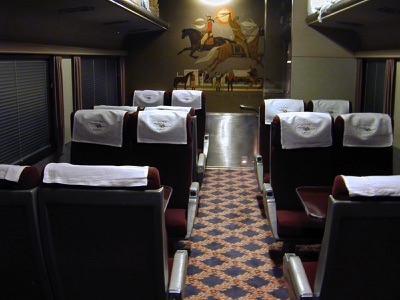 The mural by Mary Lawser is original, and one of the very few surviving the Amtrak era. We had it cleaned and restored by a professional conservator in 1988. In this end of the car's main floor there are 12 seats at dining tables.
The long end of Silver Lariat has seats for 24 at six dining tables as well as our bar. The view at left is taken from the vista-dome stairs.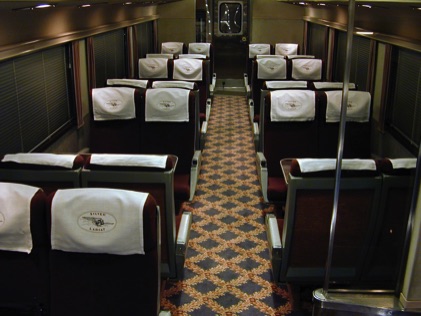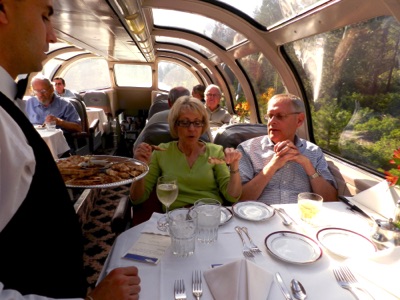 Dining aboard Silver Lariat is on tables set with original California Zephyr tablecloths, starched and pressed, as was done 'back in the day'. We use our own registered-pattern monogram fine china, elegant stemware and barware. Heavy polished stainless flatware and starched, pressed cloth napkins and real flowers on the tables, of course!