• Vista-Dome seats 24 at tables in deep cushioned seats upholstered in traditional Mohair
• Main Level seats 42, of which 36 are at tables; reclining seats in traditional burgundy wool frieze.
• Full commercial kitchen, with two ranges and two half-size convection ovens
• Our own registered monogram china service
• Original white damask California Zephyr table linens
• Wet bar
• Full sound system with CD, iPod, and PA
• Roomette Bedroom Sleeper
• Six Double Bedrooms with enclosed annex containing toilet and sink; each room sleeps 2
• Eight Roomettes, sleeping 1, with sink.
• Shower/changing room
• Galley style kitchen for light snacks and hot and cold beverages.
• Vista-Dome Sleeper-Lounge-Observation car
• Double bedrooms, Drawing Room, and Stateroom sleep up to 11 guests (9 plus crew if out solo)
• All rooms have enclosed annexes with toilet, sink and shower
• Full commercial kitchen with range that includes half-size convection oven
• Observation Lounge seats 11 in classic railroad lounge chairs upholstered in frieze fabric
• Vista Dome seats 24 in booth seating at tables
• Original bar with carved linoleum facade.
• Sound system with CD and iPod
• Full baggage car with vestibule
• Shop including 8' work bench, drill press, table saw, bench grinder.
• Commissary including 49 cu ft commercial refrigerator and 12 cu ft commercial chest freezer.
• Storage for dry goods, linens, towels, and amenities
• Stores area with spare parts
• Area for guest baggage
Click HERE to view floorplans of the cars.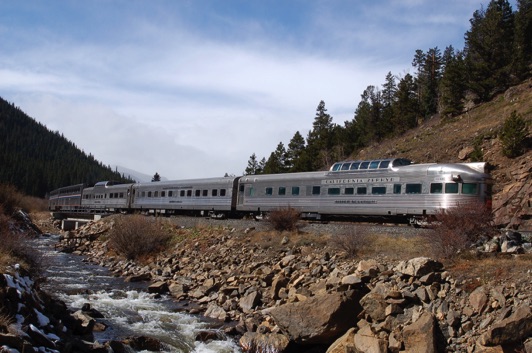 Our cars are classic Budd-built stainless steel streamlined Zephyrs from the 1940's. All have been rebuilt to modern standards and are capable of traveling at speeds up to 110 mph. All are Amtrak certified. Below is a list of our cars with their significant features. Each car's name is a clickable link, which will take you to a page with more details.
In addition to our own fleet if your needs require more or different cars we'll be glad to help locate those for you.