Silver Peak Baggage/Support Car
Our latest acquisition is the Silver Peak. Built by Budd in 1940 for the Texas Zephyr, it will make a great addition to our fleet. We will use it as a support car. As such it carries spare parts, a small shop, and a commissary complete with large refrigerator and freezer and lots of storage for linens and towels. Of course it will have lots of room for baggage too!
Silver Peak is Amtrak compliant, and is available for charter. It is rated to travel at speeds up to 110 mph, and carries an "A" clearance, so it can travel anywhere on the Amtrak system.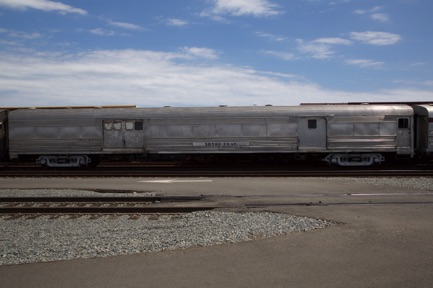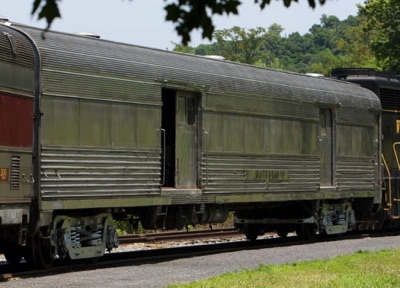 Silver Peak was originally built as a coach-dormitory-express baggage car. Coach seats were reserved for Colored People, given that this car operated on a train that served Texas, a Jim Crow State. Once the Jim Crow laws on interstate buses and trains were found to be unconstitutional the Burlington converted the Silver Peak into a full baggage car, removing the coach and dormitory sections, as well as the two public restrooms.
In 1971 Silver Peak became an Amtrak car along with most of the Burlington fleet. Amtrak used it until 2001, and sold it in 2003 to the owner from whom we acquired it.