Silver Rapids Sleeping Car
Few people realize that the California Zephyr partner railroads included the Pennsylvania and the New York Central, in order to provide transcontinental sleeper service. The Pennsylvania Railroad purchased a roomette-bedroom sleeper, Silver Rapids, identical to the other CZ sleepers, in order to fulfill its obligation. When transcontinental sleeper service ended in 1957, the car acquired a black roof and "Pennsylvania" on the upper signboards. We purchased Silver Rapids from the estate of rail videographer David Goodheart, who bought the car from Amtrak in 1985, and passed away in 2004.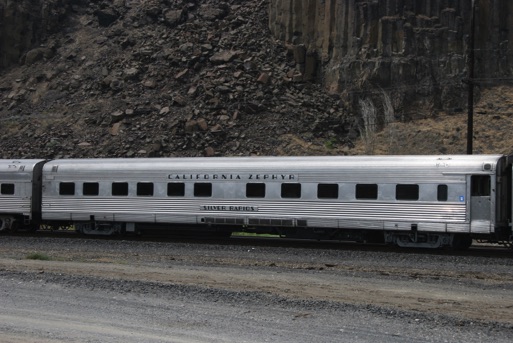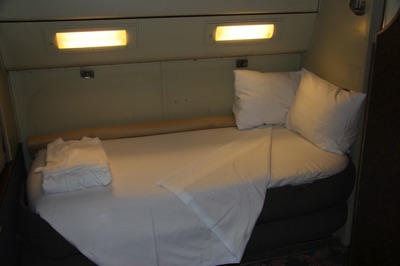 Today Silver Rapids has 6 bedrooms accommodating 2 persons each. Each bedroom contains an enclosed annex with toilet and sink. Each pair of bedrooms opens en suite for families or friends who wish to travel together.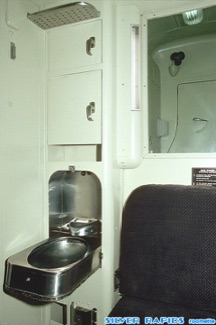 Silver Rapids also has 8 roomettes, which accommodate single travelers. Each roomette has a sink in the room. The total sleeping capacity, therefore, is 20.
A shower/changing room has been added for the convenience of our guests, as well as a galley station providing hot and cold beverages.
Guests will find their rooms are supplied with white cotton terry face cloths and bath towels, starched and pressed 'huck' hand towels, reminiscent of Pullman service, individual soap and shampoo, and for added comfort, white cotton terry robes.
Bedroom ensuite, in day service.
Our beds are always triple sheeted with white percale linens that are starched and pressed. Two pillows and two blankets to each bed.