Chicago to Los Angeles
Santa Fe All the Way!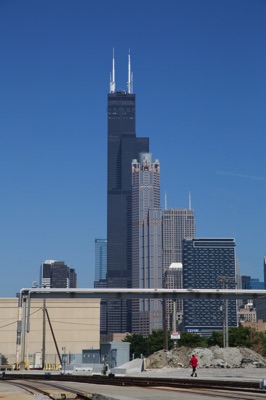 We will be repositioning Silver Rapids and Silver Solarium from Chicago to Los Angeles and we'd love to have you join us! We'll be on the rear of Amtrak's Southwest Chief, which departs Chicago at 3:00 PM June 30th, and arrives Los Angeles 8:15 AM July 2.
Meal service will be in the Vista-Dome of Silver Solarium. Naturally, our service includes our original California Zephyr tablecloths and our own registered-pattern monogram china. All meals will be prepared fresh on board by our chefs.
Overnight accommodations include:
Roomettes: One person. Murphy-style bed, sink with hot and cold running water. Toilets are just a few steps down the hall.
Double Bedrooms: One or two persons. Upper and Lower Berth, with enclosed restroom annex in each room. Annex contains toilet and sink with hot and cold running water. Some annexes include hand-held showers.
Bedroom On Suite: Two to four persons. Several double bedrooms have a movable partition which when open provides a very spacieous room with two upper and two lower berths and two restroom annexes.
Drawing Room: One to three persons. One upper and two lower berths. Larger annex with toilet, sink, and fixed-head shower. Larger closet for clothes storage.
Stateroom: One or two persons. Booth seating makes down into a Full (double) bed. Large wardrobe for clothing storage. Annex with toilet, sink and shower.
Amenities for all rooms include: Individual bar soap, shampoo, white cotton terry wash cloths and bath towels, starched and pressed Huck hand towels. White cotton terry bathrobes.
Silver Rapids features a shower/changing room, which is available to all guests.
Prices:
Roomette: $1,999/person
Double Bedroom: $1,999/person double occupancy (PPDO)
Drawing Room: $2,499 PPDO; $1,999/person triple occupancy
Stateroom: $2,499 PPDO.
Bedroom on Suite: $2,999 PPDO
Single in a Bedroom: $2,999/person
A limited number of Day Riders will be accommodated:
Chicago to Kansas City: $259
La Junta to Albuquerque $259
La Junta to Winslow or Flagstaff: $299
Click HERE to book this trip!
June 30 thru
July 2, 2017