Fall Colors Zephyr Westbound
Nov 1, 2017: Depart from Huntington WV
Nov 3, 2017: Depart from Chicago IL
Nov 5, 2017: Arrive Emeryville, CA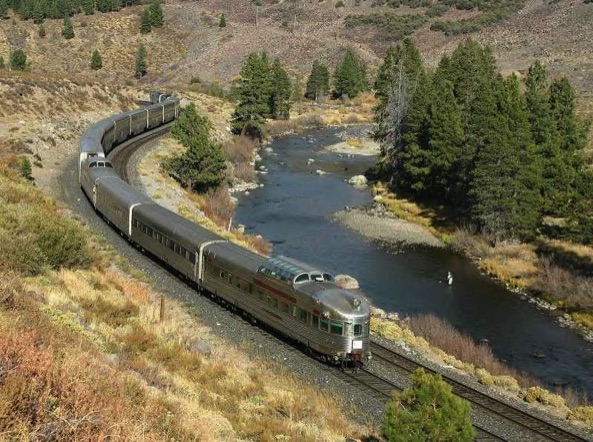 ***THIS TRIP WILL GO***
Celebrate the glories of Fall from your seat in a Vista-Dome! Experience what it was like to travel on the Scenic Way Across America in our Silver Fleet of cars that were built for this route!
Our Silver Fleet cars will be coupled to the rear of Amtrak's California Zephyr and will travel over what is arguably the most beautiful rail route in the US as we make our way from Huntington WV, where Silver Lariat was a part of the famed New River Gorge special trains, to Chicago then on to Emeryville CA.
We will depart Huntington at 9:44 PM on Nov 1, and arrive Chicago the next morning. Here guests will depart for hotel for the night. Those guests traveling all the way west are welcome to leave any luggage they do not want to take to the hotel on board.
Nov 3 at 2:00 PM will see us departing westward on Amtrak train 5, the California Zephyr. Our cars which were built for the original California Zephyr make a fitting conclusion to this train.
We cross the mighty Mississippi in late afternoon, and will race across Iowa in the gathering dusk. Omaha is reached about 11PM. Those who haven't retired for the night will want to step out to look at the recently restored classic Burlington station, now home to a local TV station. Throughout the night we make our way across Nebraska.
We awaken as our train is rushing through the plains of eastern Colorado, and as the first rays of dawn light up the land we can just make out the Front Range of the Rockies, looming ever larger as we approach Denver.
Denver is a servicing stop and a great place to stretch your legs. The restored station building is a must-see and an easy walk from our track. Following servicing, our train departs for its climb over the Continental Divide.
For 45 miles and 4,000 vertical feet our train climbs the Front Range, reaching the summit and crossing the Divide inside the Moffat Tunnel, the highest point on an in-service main line in the US, and the third longest rail tunnel in the US.
Shortly after exiting the Moffat Tunnel we meet up with the Colorado River, which we will follow for 230 miles, into eastern Utah. Along the way we will travel through 5 canyons, beginning with Byers Canyon. The most spectacular of the 5 canyons is of course Glenwood Canyon, which stretches for some 18 miles just east of Glenwood Springs. At times the canyon walls are actually overhanging the tracks. There is no better way to see this country than from a Vista-Dome, and a trip through Glenwood Canyon, where the Vista-Dome concept was born, will make you a believer!
Evening again overtakes the train as it makes its way up the Price River Canyon and over Soldier Summit, then back down to the Salt Lake Valley in a series of giant "S" curves. Following a brief stop at Provo, our train proceeds to Salt Lake City, arriving about 11:30 PM. Nightowls are welcome to stretch their legs here as our locomotives and the train is being serviced.
Departing Salt Lake City we race along the south shore of the Great Salt Lake, across the Bonneville Salt Flats, and into Nevada. The railroad is a roller coaster of mountains and valleys.
Dawn finds us in western Nevada and a date with Sin City, Reno. We will follow the Truckee River into California and our next stop, Truckee, which is the rail gateway to Lake Tahoe. From Truckee we begin the climb in earnest to the summit of Donner Pass. The summit is reached in a 2-mile long tunnel. Emerging from the west portal we are at Norden, which used to be the nerve center of Southern Pacific mountain operations. Here we begin our 80 mile and nearly 7,000 vertical feet descent to Roseville.
Sacramento is reached in the early afternoon. Here was the starting point of one of the greatest feats of mankind, the transcontinental railroad. Much of the route we have been riding on is the original alignment, laid down in the late 1860's.
From Sacramento the train sprints through rice paddies and wild marshlands, then crosses the western end of Suisun Bay on a massive bridge, opened in 1930. From here we follow the shore of San Francisco bay all the way to Emeryville. Here we wish our new friends farewell.
Guests wishing to ride the New River Gorge train, which makes its last departure on October 23rd, may opt to spend nights aboard our sleepers, which will be kept in Huntington. Tickets for the NRG train are sold separately.
What's included:
• Guaranteed Vista-dome seating.
• Overnight accommodations in our sleepers: Roomettes, Double Bedrooms, Drawing Room, Stateroom.
• Meals prepared fresh on board by our chef, served on our monogram china on tablecloths from the original California Zephyr.
• Complimentary bar featuring premium labels of beer, wine, and spirits.
This trip will operate as outlined herein.
Accommodations:
Roomette: One person. Single murphy-style bed, sink with hot and cold running water in room. Sofa-style chair and visitor bench by day. Small closet for hanging garments. Generous overhead storage shelf.
Double Bedroom: 1 or 2 persons. Upper and lower berths. Upper berth is the same size as the lower, with lots of headroom for those wishing to sit up and read.
Enclosed annex containing toilet and sink (toilet, sink and hand-held shower in Silver Solarium.) Closet for hanging garments; overhead storage for luggage.
Drawing Room: Up to 3 persons. Two lower berths and one upper berth, same size as lowers. Sofa and folding chair for day use. Larger annex with toilet, sink, and fixed-head shower. Larger closet for hanging garments. Overhead luggage storage.
Stateroom: Added on by previous owner. One or two persons. Booth seating folds to be come a standard double (full) bed. Large closet for hanging garments, shelves under closet for luggage storage. Annex with toilet sink and shower.
Pricing:
Chicago to Emeryville, Nov 3-5:
Roomette: $2,499/person
Double Bedroom: $2,499/person, double occupancy (PPDO)
Drawing Room: $2,999 PPDO
Stateroom: $2,999 PPDO
Single occupancy bedroom: $3,749
Denver to Emeryville, Nov 4-5:
Roomette: $1,499/person
Double Bedroom: $1,499/person, double occupancy (PPDO)
Drawing Room: $1,899 PPDO
Stateroom: $1,899 PPDO
Single occupancy bedroom: $2,249
Huntington to Chicago, Nov 1-2: (includes 1-2 nights prior to departure if desired):
Roomette: $1,199/person
Double Bedroom: $1,199/PPDO
Drawing Room: $1,599 PPDO
Stateroom: $1,599 PPDO
Single occupancy bedroom: $1,799
Day Rides:
Reno to Emeryville: $199/person
Denver to Salt Lake City: $399/person
Travel to/from or between some intermediate destinations, such as Denver, Salt Lake City, or Reno available. Call for prices.
20% discount for people traveling from Huntington to Emeryville.
We accept Visa, Mastercard and American Express. A 3% convenience fee will be added to the total for those paying by credit card.
Click HERE to reserve your space!